ONE-STOP SOLUTION FOR ALL INSURANCE & FINANCIAL PROTECTION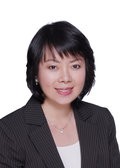 Susan Fan, CLTC
Susan Fan, CLTC, is committed to providing individuals, families, and businesses with life insurance and financial products that meet their needs. She keeps up with current insurance and financial product trends and offer outstanding service. She shows true concern for her clients. She hopes to earn your trust and to help you achieve your goals.
and Susan Fan Insurance Services
The commitment and individual attention that Susan Fan Insurance Services provides to each of its clients helps them realize their insurance and financial objectives. The insurance carriers that we represent are among the most solvent and the strongest in the industry, with the innovative products and affordable rates.
We work hard to build a trusted relationship with our customers by being referable, networking with other business professionals and seeking for partners with common goals. We are dedicated to make our customers feel both comfortable with and confident in our abilities by acting as their consultant. We seek out the best companies that offer the appropriate coverage at a fair price.
Estimate the future cost of an item based on today's prices and the rate of inflation you expect.

How Long Will Your Funds Last?

Use this calculator to determine whether you qualify for the different types of IRAs.